NPs React: Addressing Burnout and Depression
The Medscape Nurse Practitioner Burnout and Depression Report 2022 paints a discouraging picture of the mental health of NPs. Almost a third of the 2084 respondents reported that they're considering leaving healthcare. Another third said they had previously considered leaving the field because of mental health concerns, such as burnout and depression.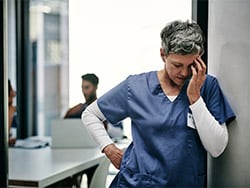 One reader of the report commented, "This is very disturbing. NPs have only been practicing in higher numbers for around 15 years. To see half already considering quitting is a huge loss." Another added, "Nurses are leaving the profession in droves."
How does burnout and depression affect NPs? How do they cope? And what might make a difference? Commenters of the report speak out.
The Tragic Impact of COVID-19
There's no question that NPs profoundly felt the impact of COVID-19. "The COVID-19 pandemic took its toll on every corner of healthcare, from subtle to full-on tragic," one reader observed.
Of the NPs who reported burnout, 42% said their burnout has been ongoing for the past 1–2 years. Although some things have improved since quarantining ended, 62% of respondents feel more burned out now than they were then.
"It all began with COVID, working so hard and feeling a lack of support from admin who sit behind a desk or could work from home when we are out on the frontlines risking our lives and our family's lives," a critical care NP wrote.
Political issues and controversies surrounding COVID-19 didn't help. A gastroenterology NP wrote that "mental stress related to COVID regulations, and government involvement/political stress in healthcare" played a role. Others said that COVID had increased the patient load and pressure; and a palliative care NP shared feeling "more disconnected" because of the COVID-related deaths she witnessed.
In addition, the bulk of childcare responsibilities fell on women, who were particularly affected during the pandemic — and most NPs are women, as a retired nurse-midwife reader pointed out. "I truly think that the added burden of figuring out how to care for children when they weren't at school was a tremendous burden."
Staggering Workload
Respondents acknowledge that various factors contributed to their burnout. Almost half listed excessive bureaucratic tasks as the number one problem, following by insufficient compensation and lack of respect from administrators/employers, colleagues, or staff (both at 43%).
One respondent likened her work environment to a "war zone."
But 32% of respondents said the sheer number of working hours, which necessitated taking work home, significantly contributed to their burnout. For example, an electrophysiology NP described "no boundaries or clear expectations" in her position and receiving calls after hours, despite having "no call hours" specified in her contract.
An ob/gyn NP wrote, "I spend more time at work completing charts and non-direct patient care tasks because my schedule is fully booked/overbooked every day. I get home late and miss out on time with my family. I often have to finish work in the evenings from home."
Marriages and Kids Suffer, Too
The majority of respondents (69%) feel that their burnout adversely affects personal relationships. Many said that work makes them "short-fused," "irritable," and too tired to engage with family meaningfully. A family medicine NP said, "My spouse and children feel like they have to walk on eggshells around me because I lose my temper over minor issues."
Another family medicine NP confessed, "I'm not as happy at home, seem angrier with my kids, and tired! My marriage is struggling, as I'm not as happy as I used to be." She also said that financial struggles because of lower reimbursement add stress to the marriage, not to mention that exhaustion leaves her with little energy to connect with family.
Many respondents also reported that they were on the cusp of divorce or had already gotten divorced. Some felt that their partners who are not involved with healthcare could not understand the grueling circumstances in which they work. One critical care NP said they no longer enjoy being around family members who cannot relate to what healthcare workers experience.
On the other hand, having a partner in healthcare wasn't a magic bullet to alleviate mental health problems either. "My wife is in healthcare as well," wrote an internal medicine NP. "We've been short and closed off to each other."
Triple Whammy: Depression, Anxiety, and PTSD
An astounding 85% of respondents reported feeling either "clinically" or "colloquially" depressed (32% and 63%, respectively) and that it affected their empathy, compassion for patients, and pleasure in life and work.
One critical care NP said, "I have lost my passion for my career. I dread going to work every day." An NP working in plastic surgery likened her stress, fatigue, and PTSD to "an ominous disease that has infiltrated you, your family, and your community."
Many described stress-related physical symptoms, including pain, headaches weight gain, and insomnia. "I have health issues related to feelings of stress and helplessness, isolation, and not enough time for myself," wrote a family medicine NP. A critical care NP said she suffers from depression, which she never had before, and that it has resulted in a lack of interest in her job.
However, some respondents didn't feel that their depression affected empathy and compassion, and a third said it didn't affect their interactions with patients or colleagues. One wrote, "I need to motivate myself to go to work, do charts, etc, when it used to be something I truly enjoyed doing." But she still "enjoys the patient interactions and helping families."
Healthy Self-care
People under enormous stress often turn to less-than-healthy coping methods, and NPs are no exception. More than a quarter reported binge eating or drinking alcohol, and 44% reported eating junk food to cope.
But a fair number turned to healthier ways to combat burnout and maintain health and happiness. Almost three quarters said they spend time with family and friends. Another three quarters engage in activities and hobbies they enjoy. Unfortunately, many reported not having enough time to pursue their hobbies. A sizeable number also turns to spirituality and religion for support.
Additionally, over a quarter are seeking professional help; 16% say that they are currently in therapy, taking medication for depression or anxiety, or both. One respondent wrote, "I have been in counseling for the past year to cope with stress and depression. I have also been exploring careers outside of medicine."
Others are reducing their hours, changing positions to have a better work environment, or learning to set heathy work-life boundaries.
What Would Help?
Interestingly, half of the respondents said that increased compensation would help reduce burnout, while 40% said greater respect from administrators/employers, colleagues, and staff would be helpful. Others pointed to measures that would lighten their workload, including more support staff, more manageable work schedules, and lighter patient loads.
But some were discouraged, and they doubted things will ever change.
Ultimately, as one NP seeking a new position says, "It's fundamentally a systemic issue." She thinks NPs aren't valued and are far overworked in comparison with MDs. Regardless, NPs must continue making their voices heard so that system-wide problems that compromise their mental health can be addressed.
Batya Swift Yasgur MA, LSW, is a freelance writer with a counseling practice in Teaneck, New Jersey. She is a regular contributor to numerous medical publications, including Medscape and WebMD, and is the author of several consumer-oriented health books as well as Behind the Burqa: Our Lives in Afghanistan and How We Escaped to Freedom (the memoir of two brave Afghan sisters who told her their story).
For more news, follow Medscape on Facebook, Twitter, Instagram, and YouTube.
Source: Read Full Article