Novel Approach to TMS May Slow Cognitive Decline in Alzheimer's
A novel approach to repetitive transcranial magnetic stimulation (rTMS) that targets the precuneus appears to slow the progression of cognitive and functional decline in patients with Alzheimer's disease (AD), new research suggests.
Results from 6-month, phase 2, randomized, double-blind trial show that patients with AD who received rTMS over the 24-week trial maintained stable scores on the Clinical Dementia Rating Scale–Sum of Boxes (CDR-SB), while the scores of those who received sham treatment declined over the 24 weeks.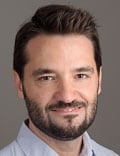 Dr Emiliano Santarnecchi
"Our electromagnetic therapeutic approach is unique in that it primarily intervenes in the electrical rather than the chemical side of the brain to treat AD," study investigator Emiliano Santarnecchi, PhD, told Medscape Medical News..
"This allows for a therapeutic approach that is noninvasive, demonstrably safe, precision-based, and it has the capability for personalization to each patient through an innovative approach," he added.
Santarnecchi is director of the Precision Neuroscience and Neuromodulation Program at Massachusetts General Hospital in Boston, Massachusetts, and co-founder of Sinaptica Therapeutics, which is currently developing a treatment system for AD called SinaptiStim–AD System in which TMS is used to treat patients with AD.
The study was published online October 25 in Brain.
Cognition Preserved
Several small, randomized controlled trials have compared rTMS with sham treatment for patients with AD. In 2018, a meta-analysis of these studies revealed that rTMS significantly improved cognition in those with AD but showed no differences between the two groups in terms of functional performance.
The current phase 2 trial, with lead investigator Giacomo Koch, MD, PhD, included 50 patients with AD from the Santa Lucia Foundation Hospital in Rome, Italy, between February of 2018 and April of 2020. Koch is also co-founder of SinaptiStim and director of the noninvasive brain stimulation laboratory at the Santa Lucia Foundation in Rome.
Patients were eligible for the study if they had an established diagnosis of mild to moderate AD, had reached specific score criteria on the Clinical Dementia Rating Scale and the Mini-Mental State Examination, and had CSF biomarker evidence of AD amyloid and tau pathology.
Participants were randomly assigned to receive either rTMS or sham over the precuneus area of the brain five times per week for 2 weeks, followed by a 22-week maintenance phase in which TMS was applied once a week to all patients.
Investigators administered rTMS (or sham) as an add-on to standard treatment with acetylcholinesterase inhibitors and measured the cortical activity of the brain with EEG with each treatment.
Investigators who were blinded to study group assessed patients with several cognitive and functional scales at baseline, 12 weeks, and 24 weeks.
At 24 weeks, those who received rTMS maintained a steady score on the CDR-SB, a global measure used to assess cognition and to stage dementia severity, while those who received the sham TMS experienced a decline in scores.
"The TMS treatment slowed cognitive decline by 82% over the course of the trial in comparison to those who received the sham treatment. This represented a treatment difference in the CDR-SB of 1.3 points (P = .009), which is considered clinically meaningful," the investigators note.
Those who received TMS fared better functionally, as well, in comparison with those who received sham treatment. On the Alzheimer's Disease Cooperative Study–Activities of Daily Living (ADCS-ADL) scale, those treated with TMS showed an improvement in cognitive function compared to those who received sham treatment, with an estimated mean change in ADCS-ADL scores of -0.7 for the treatment group and 7.5 for the sham group, demonstrating a 108% difference between the treatment and sham groups at 6 months.
Patients who received TMS also performed better over the course of the trial on the Alzheimer's Disease Assessment Scale–Cognitive Subscale (ADAS-Cog) and Mini-Mental State Examination (MMSE), demonstrating a slowing of functional decline, with an estimated mean change in ADAS-Cog score of -0.67 for the treatment group and -4.2 for the sham group. The estimated mean change in MMSE score was 0.30 for the treatment group and 1.8 for the sham group.
Eight patients reported mild adverse events, such as mild headache, scalp discomfort, and neck pain/stiffness. Most of these effects resolved on the day of the procedure.
The fact that the treatment group had minimal declines on multiple measures of cognition and were clinically stable during the study and improved, rather than declined, on the main outcome measure of functional capability (ADCS-ADL) is an impressive feat for any therapeutic in a randomized, double-blind, placebo-controlled study of AD, said Santarnecchi.
Investigators are targeting the precuneus as the main node of the default mode network, which has been shown to be altered in patients with AD in early stages and even in preclinical phases of AD.
"We are impacting synaptic plasticity on the micro level and network connectivity at the macro level," said Santarnecchi. "These electromagnetic pulses are able to fire neurons in the location we are targeting, inducing plasticity in this region of the brain. Essentially, you can look at this as rewiring and reconnecting around the growing damage from the [AD] to preserve both cognitive and functional capabilities," he noted.
The researchers hope that, pending replication of the findings in a larger sample, the novel application will be approved by the US Food and Drug Administration (FDA) for use in patients with AD.
No Direct Link to Outcomes
Commenting on the findings for Medscape Medical News, Alvaro Pascual-Leone, MD, PhD, professor of neurology at Harvard Medical School and medical director of the Deanna and Sidney Wolk Center for Memory Health at Hebrew SeniorLife, said that while he believes the study has a number of strengths, including enrollment of well-characterized patients with tau biomarkers for AD, and while articulating a clear and compelling hypothesis, the investigators did not link the change in gamma activity or connectivity of the default mode network directly to the outcomes.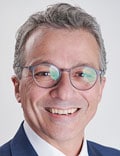 Dr Alvaro Pascual-Leone
"They acknowledge modulating activity in the default mode network, but it would be nice to see whether clinical benefit is accounted for by this activity, because that is the study hypothesis," he said.
Pascual-Leone was not involved in the study and has conducted his own research on rTMS and AD.
He remarked on the fact that the group that received sham treatment "declined to a surprising degree" during the 6-month trial as evidenced by assessment scores, which appears to account for the differences between the two groups seem more pronounced.
"The main clinical effect appears to be a lack of progression in the treatment group, but 6 months is a relatively short period of time, so it would be nice to see how these findings bear out over a longer period of time. Longitudinal follow-up is critically needed," he said.
The investigators have plans to conduct a larger, multicenter study on TMS in patients with AD in 2023.
"We have received breakthrough device designation from the FDA after sharing our approach and supporting data and will be conferring with the agency on the design of a pivotal study that has the potential to replicate and hopefully even improve upon these results," Santarnecchi said.
The study was funded by the Brightfocus Foundation and the Italian Ministry of Health. Santarnecci reports having patents on noninvasive brain stimulation applications in neurodegenerative diseases.
Brain. Published online October 25, 2022. Full text
Eve Bender is a Pittsburgh-based medical journalist who, in the past, has written for Psychiatric News, Neurology Today, and MedPage Today.
For more Medscape Neurology news, join us on Facebook and Twitter.
Source: Read Full Article