Jennifer Garner Just Shared Her Fave 5-Minute Breakfast And Now I'm Hungry
A top 10 annoyance: When winter is technically over, but it's still cold outside.
If it's any consolation, Jennifer Garner understands the struggle. The actress and host of #PretendCookingShow on Instagram posted a video in which she demos how to prep her favorite winter oatmeal step-by-step—and the clip could not have come a better time.
Set to a cheery beat, the video features Jen going in during an apple-chopping session and sneaking in a few bites before loading the apple pieces into a large measuring cup. And it seems—unlike the rest of the general population—Jennifer doesn't have an apple preference since she uses both a green Granny Smith and red apple of some sort (a Lady Alice perhaps? The investigation is underway).
A post shared by Jennifer Garner (@jennifer.garner) on
For now, let me bring it back to the video, where Jen tosses the remainder of the ingredients—old-fashioned oats, salt, and brown sugar—into the bowl while looking like a total pro…which might be because she's winging it.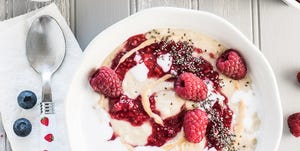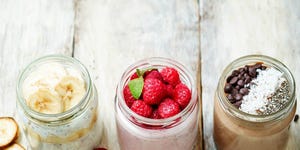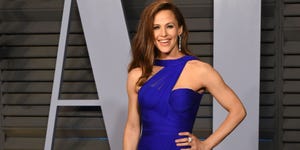 In her caption, Jennifer gives a shout out to Ina Garten and the chef's wise words about experimenting with food: "The trick to learning how to cook is finding something you eat, and making it over and over again—maybe this time try half water/half almond milk? Or instead of brown sugar drizzle some maple syrup? That's how you gain a little confidence."
And the confidence kept on coming when Jennifer put those chiseled arms to use and stirred the bowl's ingredients (plus a few more) into some boiling water for five minutes before scooping a few spoonfuls of her fluffy oats into a bowl. Want to start the day off like Jennifer? Check out her tried and true recipe.
Jennifer Garner's "Oh-So-Good Oatmeal" Recipe
Ingredients:
3 cups water
2 medium tart apples, chopped
1 1/2 cups old-fashioned oats
Dash of salt
1/4 cup packed brown sugar (Jennifer uses 2 tbsp)
1/2 tsp ground cinnamon
1/2 tsp vanilla extract
1/4 cup chopped almonds
Maple syrup and/or milk of your choice, optional
Directions:
Source: Read Full Article