'I'm Pregnant, And My Doctor Just Prescribed Me A Drug Linked To Miscarriages'
Last year, I had a miscarriage that completely traumatized me. I'm now pregnant again and due in a few weeks, but I've spent this entire pregnancy worried that history will repeat itself.
Given my personal history, I tend to be a little obsessive about researching things that may cause miscarriage and birth defects. So, when an ob-gyn recently tried to prescribe me fluconazole, a medication that's repeatedly (and recently) been linked to miscarriage, I panicked.
A few weeks ago, I developed some itchiness down there.
I figured it was a yeast infection (they're pretty common during pregnancy), so I brought it up during a routine visit at my ob-gyn's office, where I met with a doctor who I don't normally see. She checked me out, took a culture, and said she was pretty much convinced that it was a yeast infection—standard stuff. That's when things got scary.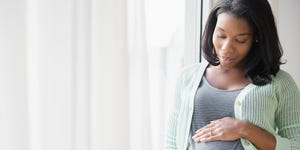 "I'm going to prescribe you some fluconazole," she said, taking off her gloves. (FYI: Fluconazole is an oral medication used to treat fungal infections, including yeast infections, according to the U.S. National Library of Medicine.)
"Wait!" I blurted out. "Hasn't that been linked to miscarriage in recent studies?" She told me the study I was thinking of was an old one, and that it was only in women who took fluconazole in high doses, so it was considered safe. Still, my head was reeling, going over everything I had previously learned about the drug (I read lots of studies as a health writer).
I tried to hide my panic and told her I'd feel more comfortable with something topical (and, you know, hasn't been linked to miscarriage). She questioned why I'd want to use a messy cream for days over a pill, but she finally agreed.
In reality, there's been more than just one "old study" linking fluconazole to miscarriage.
Just to be super clear: I'm not a doctor and I don't pretend to be one. That said, I am very up-to-date on the research behind fluconazole (i.e. Diflucan) use during pregnancy, and it's not good.
The research my doctor cited? It's actually a 2015 report in the journal Canadian Family Physician, the official publication of The College of Family Physicians of Canada. It found an increased risk of miscarriage and birth defects in babies born to women who took high doses of fluconazole (400 to 1200 milligrams per day) during pregnancy. (FYI: The standard recommended dosage of Diflucan or fluconazole is 150 milligrams per the U.S. National Library of Medicine.)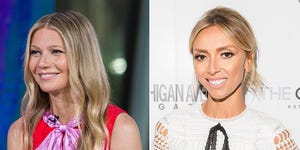 There's been more recent research, too. For a 2016 JAMA study, researchers analyzed data from 1.4 million pregnant women and found that those who took fluconazole in any dose had a "statistically significant increased risk" of miscarriage compared to those who didn't take the drug. The study didn't find a direct link between fluconazole and stillbirth (the loss of a fetus after the 20th week of pregnancy), but the researchers urged "cautious prescribing" of the drug in pregnancy as a whole.
And most recently, a February 2019 study in the Canadian Medical Association Journal looked at 441,949 pregnancies and found that fluconazole in both typical and high doses increased a woman's risk for miscarriage. (Women who took a dose of 150 milligrams were twice as likely to have a miscarriage than those who took no fluconazole; those who took doses higher than 150 milligrams had a three-times greater risk.) It also found that having doses higher than 150 milligrams during the first trimester may increase a woman's risk of having a baby with a heart defect.
Fluconazole is labeled as a category C medication by the Food and Drug Administration (FDA), which means animal studies have shown the drug to have definitive "adverse effects on the fetus," but no conclusive studies in humans, per the U.S. Department of Health and Human Services.
While the FDA says there is a concern of birth defects with "chronic, high doses" of the medication, and that "this risk does not appear to be associated with a single, low dose of fluconazole to treat vaginal yeast infection," it's still something that seems to me like it should at least raise an eyebrow—especially given all the other research out there on the miscarriage link.
The FDA and CDC issued warnings about fluconazole use in pregnant women.
In 2016, following the JAMA study, the FDA released a "safety announcement" that said they were reviewing the results of the study's findings. "Patients who are pregnant or actively trying to get pregnant should talk to their health care professionals about alternative treatment options for yeast infections," the organization wrote in the announcement.
The Centers for Disease Control and Prevention (CDC) also say that pregnant women who have a yeast infection should only be treated with topical products (i.e. not a pill like fluconazole).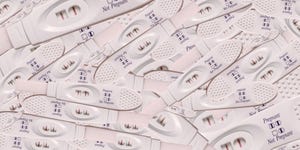 Experts back the CDC's suggestion: "It's better to exhaust other modalities like topical treatments of miconazole and clotrimazole first," says Christine Greves, MD, a board-certified ob-gyn at the Winnie Palmer Hospital for Women and Babies. "Sure, it's inconvenient and messy when compared to a simple pill, but we need to consider the risk to the baby."
The issue with fluconazole during pregnancy is that it's systemic, meaning it delivers medication throughout your body, not just to a specific area, like topical treatments—and that includes your baby when you're pregnant, says Jamie Alan, PhD, an assistant professor of pharmacology and toxicology at Michigan State University. Of course, there's a very small risk when you apply something topically, "but it's typically in much lower doses than something you'd take orally," she says.
Basically, "we're slowly starting to see that data is not supportive of using fluconazole during pregnancy," says Dr. Greves.
Some doctors are prescribing this to pregnant women anyway. "The thought process may be that it's difficult for the patient to insert the cream vaginally or that it's a lot easier to take a pill once vs. a vaginal cream for seven nights," says Dr. Greves. "Or the patient may request to take a pill." But ultimately, she says, you should be aware of the risks or at least told of them.
I'm glad I trusted my gut.
When it comes to taking medication during pregnancy, Dr. Greves says it's important to be able to trust your doctor. "But I'm never going to argue with someone's gut," she says. "If your gut is telling you to look it up or ask the pharmacist about it, you should go ahead and do that." A pharmacist is a "great resource" if you're not sure about a medication and its risks, and so is the drug insert that should come with your medication, says Alan.
In general, doctors are "very careful" about prescribing oral medication during pregnancy, Dr. Greves says—or, at least, most are. But, if you feel like your doctor isn't being as careful as you'd like them to be, or you just feel like you can't trust them, go elsewhere.
Source: Read Full Article