'Easiest thing to help the planet': How grocery startups are tackling food waste
For about $150 dollars each week, Bridget Choi gets to have a direct relationship with the farmers who grow her food. The Lane Cove-based mother-of-three is a long-time customer of Your Food Collective, a female-founded farmer-focused grocery delivery service, and every week she teaches her children about where their food comes from.
"You're able to shop locally, seasonally; you're supporting [the founders'] young families; you're supporting the farmers; and, most importantly, it's great food for my family," she says. "You're getting groceries anyway, so why not do it in a way that supports all of these people?"
Bridget Choi, her husband Ray and their children (L-R) Norah, Remy and Hazel with their weekly Your Food Collective grocery delivery at home in Sydney's Lane Cove.Credit:James Brickwood
Choi is one of an ever-increasing group of Australians who are switching to home-delivered farmer-friendly groceries. The pandemic kickstarted a national trend towards increased grocery delivery, for convenience and safety. But a variety of Australian startups are connecting customers and farms directly – removing the middleman and eliminating food waste in the process.
Significant waste happens at various points in the food chain, and it accounts for about 3 per cent of Australia's annual greenhouse gas emissions. It happens in the ground, with inefficient harvesting practices or oversupply; in the grocery sector, when "imperfect" produce doesn't make the cut, or is lost in transportation; and in consumers' kitchens.
"I think consumers really need to understand the power of the food on their plate to drive change," says YFC co-founder Lauren Branson. "It's a huge opportunity for people to eat better, nourish their bodies, and to reduce our environmental impact."
"It's a huge opportunity for people to eat better, nourish their bodies, and to reduce our environmental impact."
Sydney-based Good & Fugly, co-founded by former GoGet employee Richard Tourino and launched in January 2021, rescue excess and so-called "imperfect" produce (deemed not pretty enough for major supermarket chains) from being ploughed back into the ground. They offer seasonal fruit-and-vegetable boxes from $39, with plans to expand into white-label products. Melbourne-based Farmers Pick, started by friends Josh Ball and Josh Brooks-Duncan in October 2020, box up blemished and imperfect seasonal produce from over 50 different farms across VIC, NSW, QLD and SA, in solo and family packages, starting at $35.
"We're having daily conversations with our growers as to what they've got," says Tourino. "People really want to do something good for the planet, and they're looking around for anything they can do that actually helps. And buying a box of seasonal produce, imperfect produce, is probably the easiest thing you can do to help the planet."
YFC, founded in 2017 by cousins Branson and Cara Cooper, currently service Sydney and Newcastle with seasonal produce, pantry staples, baked goods, meat, seafood and dairy products. YFC work with regenerative farmers, with almost everything grown within 250 kilometres of a customer's front door, and require their 150 growers to meet a range of criteria. It's about making sustainability convenient, Branson says, and educating consumers about their impact on Australian agriculture, the environment, and their health.
Loretta Woollard, from Melbourne's Burwood East, doesn't mind the imperfections in her weekly Farmers Pick box. For her, it's a testament to quality and an easy way to feed her family of four.
"It might be funny-looking fruit and veg – some people might not like that – but it doesn't do anything to the flavour," she says. "It tastes much more organic and natural than things you might find elsewhere. You're eating real fruit and veg."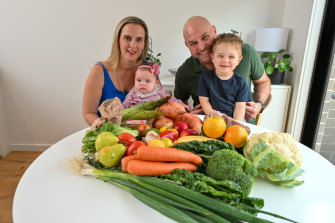 Loretta Woollard and husband Scott Woollard with their children Matteo and Emelia with their order from the Farmers Pick.Credit:Eddie Jim
Celebrating "imperfect" produce is a culture shift for some people, Tourino says, but he hopes businesses such as his will help consumers – and supermarket chains – reframe their idea of quality.
"You can have a 'weird' looking tomato: if you price that at 50 per cent of what a perfectly round tomato is priced at, you turn a lot of people off," Tourino says. "Our mission is for eventually there to be no difference."
For each startup, produce moves from dirt to door within 48 hours, encouraging locality and eliminating travel miles. Ball encourages people to "cook outside the box and cook in season".
"You can't actually get cherries and stone fruit all year; that's not normal and you shouldn't be doing that," says Ball.
The result is empowered consumers who can make a small impact on a changing climate.
"We're going to see a greater frequency of these dramatic climate events," says Branson. "We need to support our local food security so that when supply chains are fractured, we've still got food to eat."
Make the most of your health, relationships, fitness and nutrition with our Live Well newsletter. Get it in your inbox every Monday.
Most Viewed in Lifestyle
From our partners
Source: Read Full Article