26 Keto Breakfast Ideas to Power Up Your Morning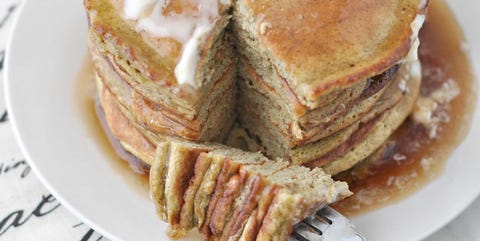 You've probably heard of the keto diet, the trendy weight loss plan that advocates for cutting down carbs and upping your fat intake. (That means no to pastries and pasta, and yes to meat, eggs, and heart-healthy oils.) If your morning routine of the past involved bagels, toast, or oatmeal, trying to come up with keto breakfast ideas can feel like a rude awakening. With so many carb-heavy a.m. foods, it's arguably the hardest meal to find ketogenic diet-approved substitutes for — especially when you're staring right in the face of a donut on your morning coffee run.
Sure, regular bacon and eggs are A-OK, but you can only whip them up for so many days before things start to feel repetitive. The good news? There are some creative keto breakfast ideas out there that'll make you forget all about your old standbys.
Here are keto-friendly a.m. recipes to inspire your keto breakfast game.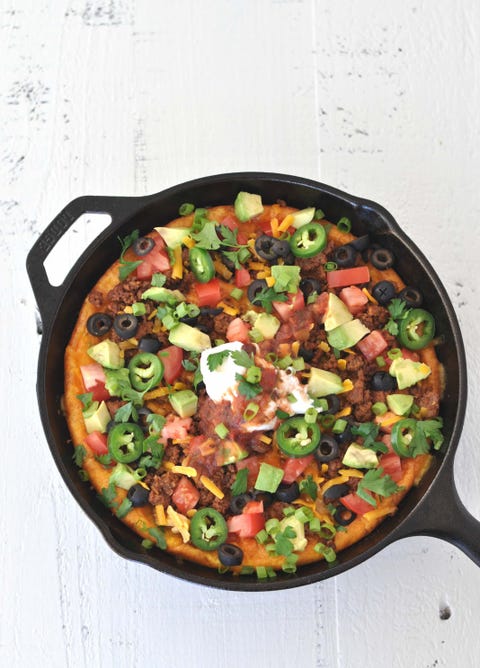 Peace, Love, and Low Carb
Loaded with protein-packed ground beef, sharp cheddar, veggies, and everyone's favorite taco add-ons (salsa and sour cream, anyone?), this skillet from Peace, Love, and Low Carb is like eating nachos for breakfast — minus the chips. The best part: It can be meal prepped ahead of time for a week's worth of breakfasts. (Just leave the toppings off and add them after you've heated up a serving in the morning.) Who says tacos only belong on Tuesdays?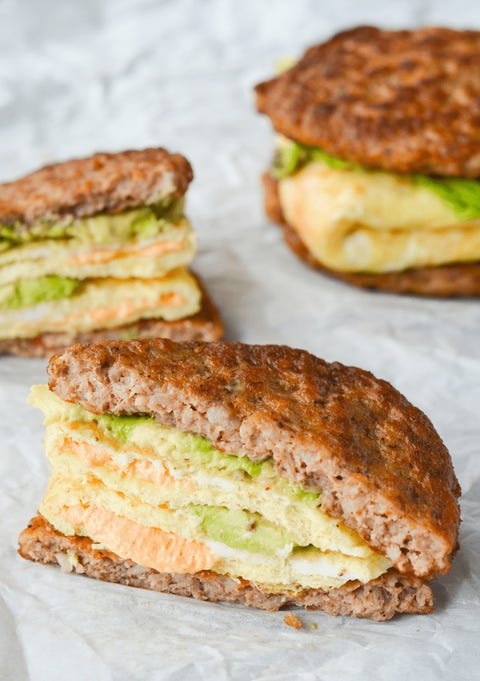 Hey Keto Mama
Instead of a complicated keto bread recipe, this breakfast sandwich from Hey Keto Mama gets creative and simple by using spicy pork sausage patties in place of an English muffin or bagel. An egg plus a sriracha and cheese mixture are sandwiched in between, along with any veggies of choice (a slice of tomato and spinach would fit right in). To lighten it up, swap in turkey sausage patties and use just egg whites instead of the whole egg.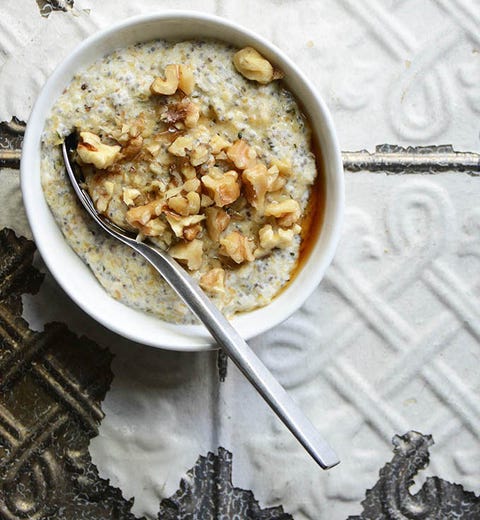 Healthy Sweet Eats
This is one of the speediest keto breakfast options around, especially if you mix the dry ingredients together ahead of time (Healthy Sweet Eats' recipe is made up of hemp hearts, almond flour, shredded coconut, flaxseed meal, and chia seeds). It can be made on the stovetop or in a microwave, and from there, the topping options are endless.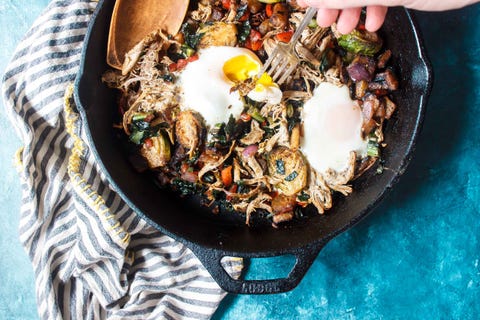 Cast Iron Keto
Put leftover pulled pork to good use with this hash creation from Cast Iron Keto — after all, something about the combination of pulled pork and runny egg yolks just feels so right. Brussels sprouts, lacinato kale, red onion, and turnip give this recipe a boost of veggies for added fiber and nutrients.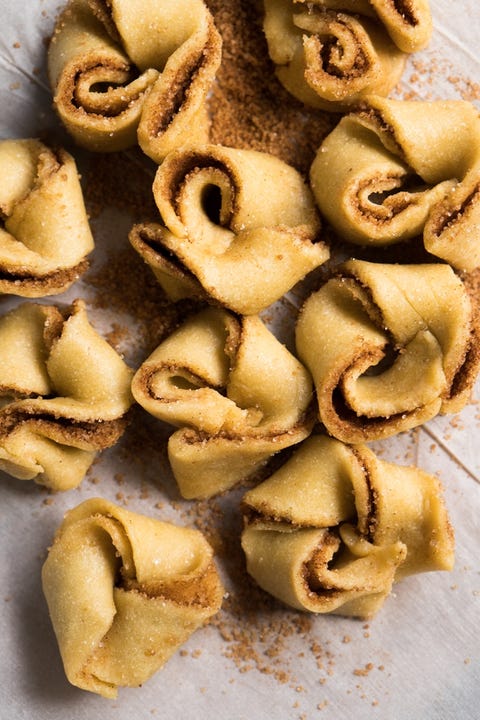 Gnom-Gnom
Cinnabon's got nothing on these keto-friendly treats from Gnom-Gnom. With only two grams of net carbs and 102 calories each, they taste more indulgent than they really are. Crafting the dough (made with almond flour and coconut flour) is a relatively involved process, but you can whip it up and keep it in the fridge for up to five days before you're ready to make (and eat) the cinnamon roll knots.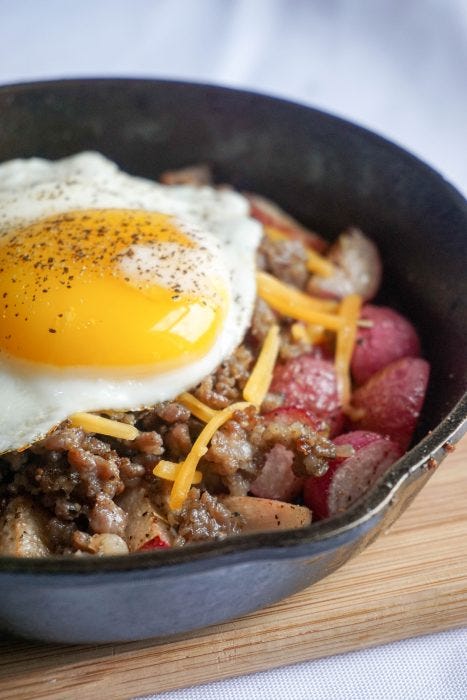 Keto Connect
Minus the salt and pepper, there are only four ingredients in this simple breakfast bowl from Keto Connect. It starts with radishes as a satisfying stand-in for breakfast potatoes, and sausage, cheddar cheese, and eggs are all layered on top. Since the egg cooks separately, you can fry it up exactly the way you like it.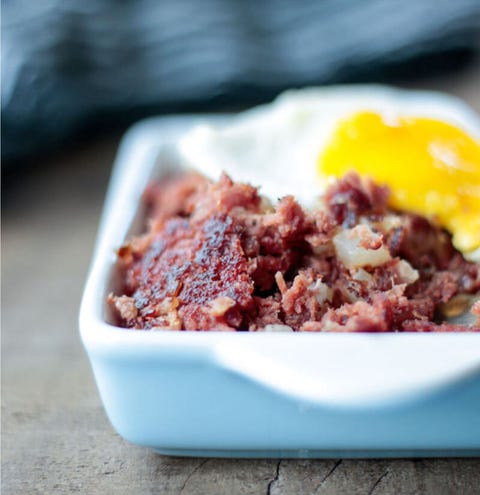 I Breathe I'm Hungry
This recipe from I Breathe I'm Hungry proves that corned beef isn't just a St. Patrick's Day standby. You can use leftover corned beef or canned corned beef, but either way, you'll end up with a crispy, unique breakfast. Pair it with eggs in the morning, and save the leftovers for lunch or dinner.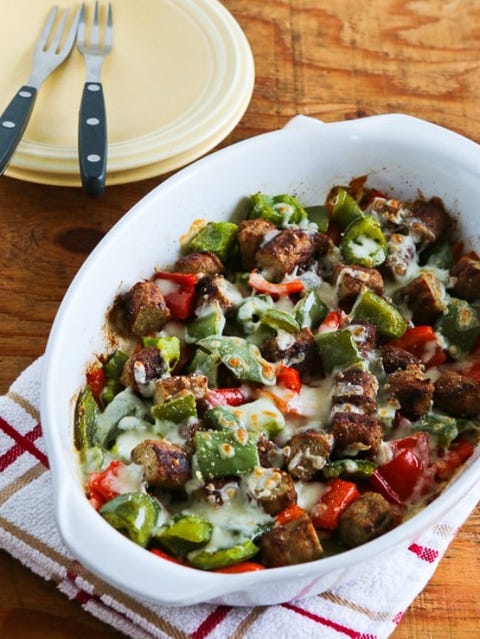 Let's face it: Eggs make a lot of appearances in keto-friendly recipes. And, hey, eggs are great! But every once in a while, you need a break. Enter this eggless breakfast bake from Kalyn's Kitchen. Red and green peppers give the recipe a colorful touch, and turkey breakfast sausage delivers a solid dose of protein to start the day.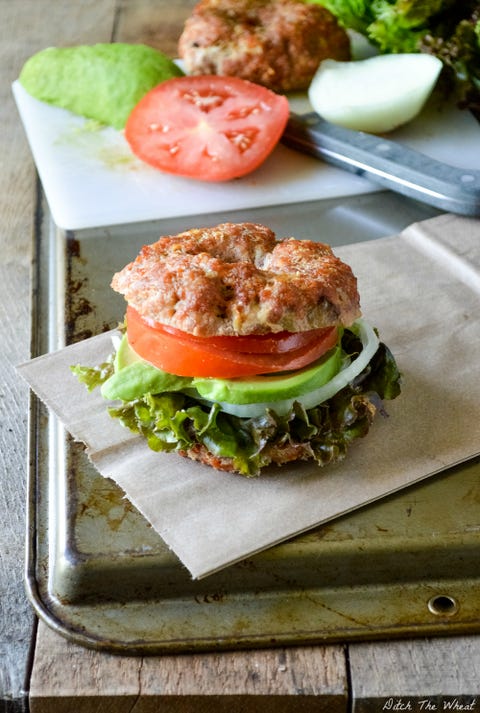 Ditch the Wheat
Yes, you read that right. Meat. Bagel. It's basically ground pork cooked into the shape of a bagel (or a donut, however you'd like to think of it). After it's cooked, cut it in half and fill it with lettuce, tomato, avocado, and onions for one hell of a breakfast sandwich. They also freeze up nicely. Meat lovers, you've got Ditch The Wheat to thank for this creation.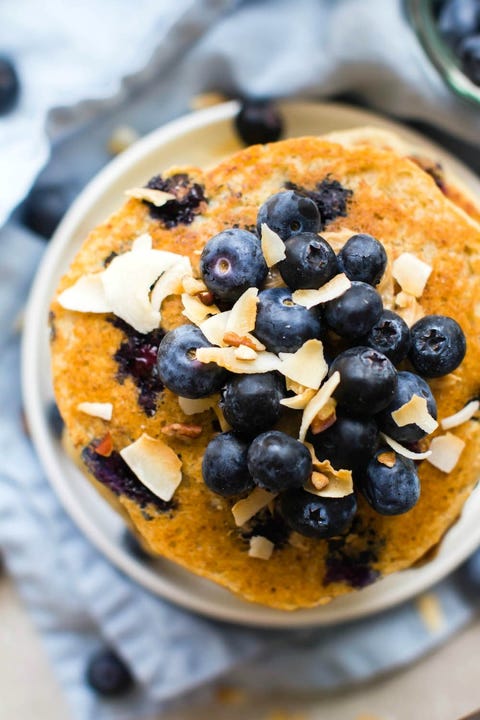 The Big Man's World
A stack of pancakes might sound like the opposite of a keto-friendly breakfast, but where there's a will, there's a way. These ones from A Big Man's World are made with the perfect combination of almond flour, coconut flour, and eggs for a result so fluffy, you'll hardly be able to tell they're low in carbs. The blueberries add a touch of sweetness (but they contain sugar, so be careful about the portions).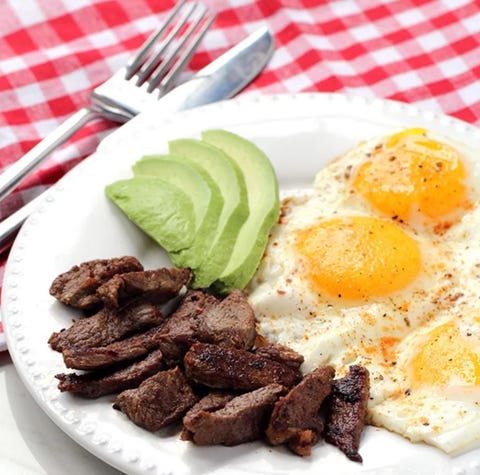 Tasteaholics
This is a classic breakfast for a reason: It's delicious, and the steak and eggs each pack a monster punch of protein to keep you fueled up till lunch. Next time you're grilling up steak at night, cook a little extra with incredible keto breakfast leftovers in mind. Tasteaholic's take uses sirloin, a leaner cut of beef, but feel free to use what you have on hand.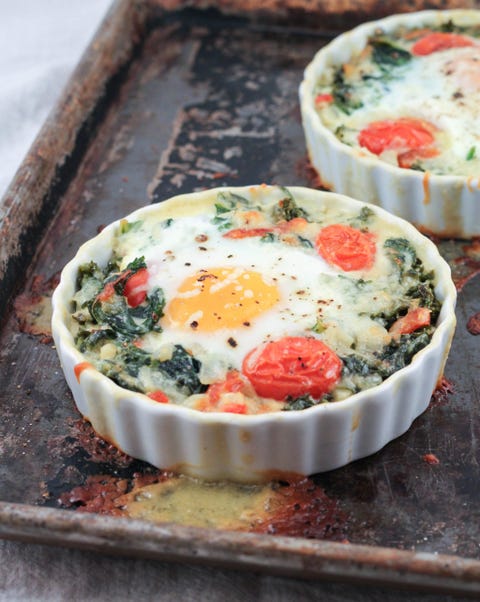 Health Starts In the Kitchen
This creation from Health Starts in the Kitchen just might be the perfect brunch recipe. Made with coconut creamed kale, roasted red peppers, cherry tomatoes, and a touch of mozzarella, these individual dishes demand to be savored on a weekend morning.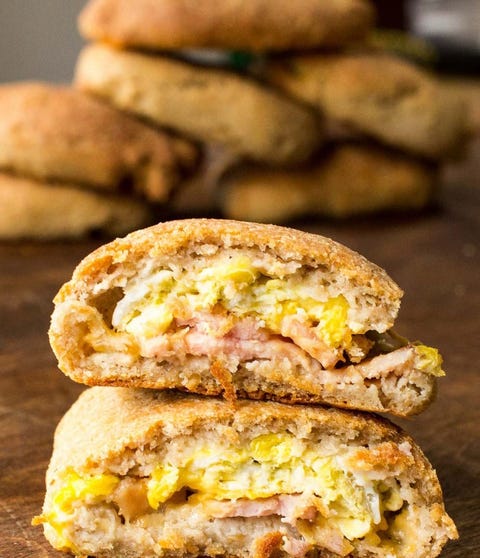 Joy Filled Eats
Hot pockets get a healthy, low-carb upgrade with these winning creations from Joy Filled Eats. Packed with ham, cheese, and egg, they're designed to be made ahead of time and then frozen. When you're running late, just pop one into the microwave and you've got a filling keto breakfast on the go.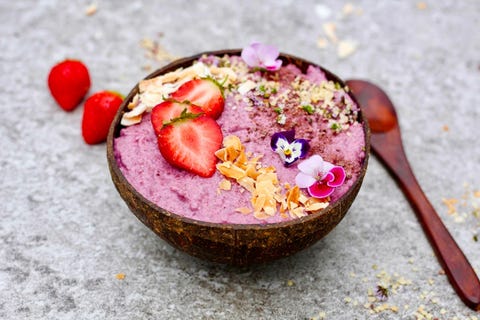 Julie's Lifestyle
If you feel like you're going overboard with animal products on the keto diet, this chia pudding from Julie's Lifestyle provides a change of pace — it's vegan, made with coconut milk for creamy texture and decadent flavor. It's also incredibly satiating: Chia seeds are a great source of fiber, and protein powder and healthy fat filled-MCT coconut oil will keep you satisfied all morning.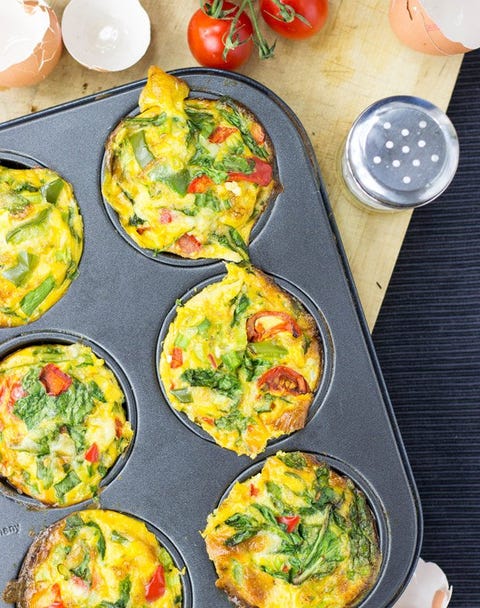 Hurry the Food Up
These breakfast egg muffins from Hurry The Food Up just might be the ultimate meal prep food. They take only 25 minutes to throw together, and three muffins provides 20 grams of protein for under 300 calories. You can also change up your mix-ins with different cheeses, vegetables, and seasonings. Freeze them for later or keep them in your fridge for the week — chances are, it won't be long before you need to make another batch.
Photos reprinted with permission.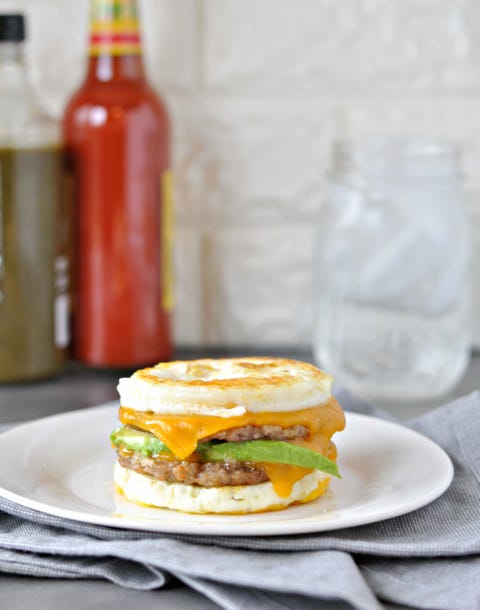 Peace, Love, and Low Carb
If you can't shake a hankering for a good old-fashioned McDonald's Egg McMuffin, this keto-friendly take on the classic from Peace, Love, and Low Carb will scratch that same itch. Use mason jar rings to cook the eggs into perfect bun-like circles, then layer it up with sausage and cheddar cheese. To upgrade way past drive-thru status (and add a dose of healthier fat), throw some avocado in there.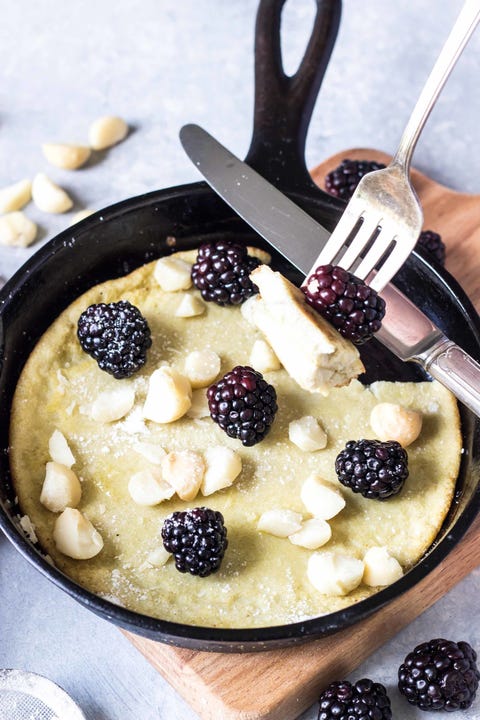 Cast Iron Keto
Impress any brunch guest (whether they're low-carb eaters or not) with this keto Dutch baby, which is basically a big pancake, but better. Created by Cast Iron Keto, it's made in a cast iron skillet, and believe it or not, there are fewer than 10 ingredients (which can be rare when it comes to bread-like things on the keto diet).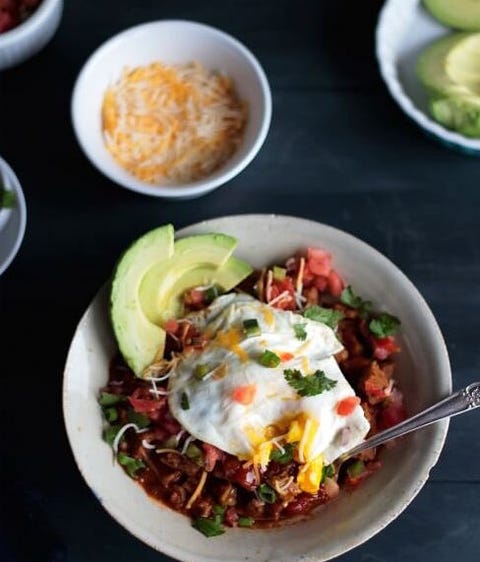 I Breathe I'm Hungry
Like chili, but with a fried egg on it. This recipe is also made with breakfast sausage patties instead of ground beef or turkey to give it a morning twist (and pack in the protein). Pair this recipe from I Breathe I'm Hungry with your usual favorite chili toppings, like sour cream or chives. (Hint: It's also a perfect recipe to break out for early morning football tailgates.)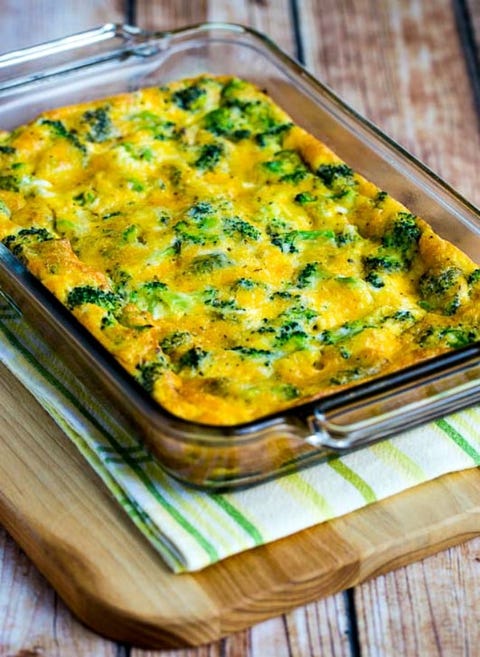 Kalyn's Kitchen
Broccoli and cheese is a winning flavor combo, so there's no reason it should be confined to lunch and dinner fare. This breakfast casserole from Kalyn's Kitchen makes it A.M.-appropriate—plus, it's a great way to get started on your daily veggie intake first thing in the morning. Prep it for breakfast on Sunday and enjoy it all week long.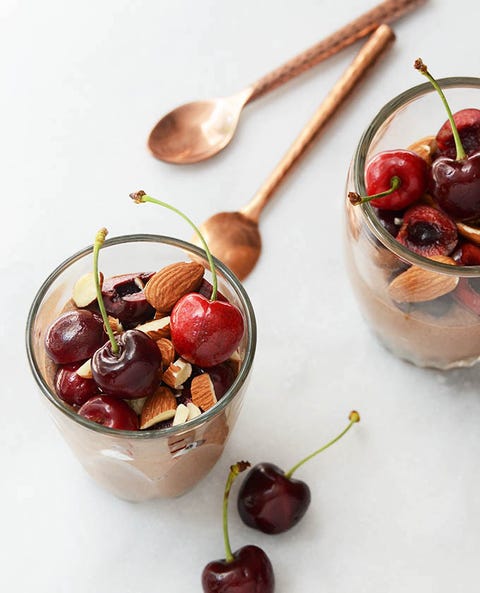 Healthy Sweet Eats
This recipe is like having last night's cake for breakfast — except it's fiber-filled chia seed pudding instead. This dessert-like breakfast from Healthy Sweet Eats is hardly a disappointing substitute, though. Fresh cherries add sweetness, while whole almonds add crunch (and more fiber). Plus, it's made with strongly brewed coffee to give you an extra jolt of caffeine with your usual cup of java.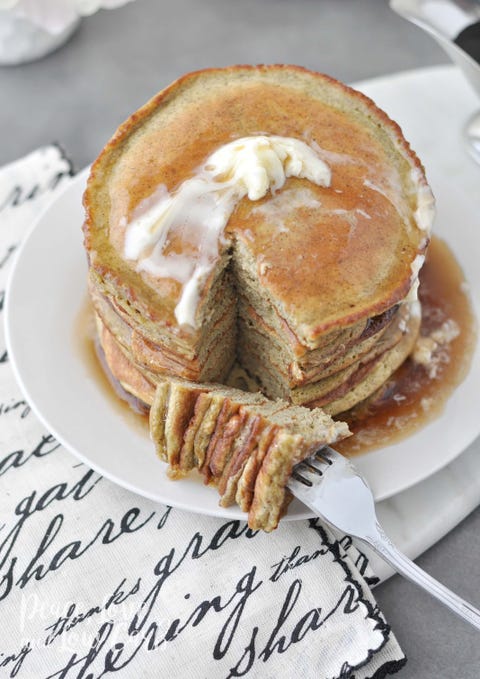 Peace, Love and Low Carb
Mmmm…pancakes. This stack by Peace, Love and Low Carb is keto-friendly, so you can whip these pancakes up anytime. There are only 8 grams of net carbs a serving, along with 5.4 grams of fat and 7.4 grams of protein. For added fat, include toppings like plain unsweetened Greek yogurt, cream cheese, ricotta, or nuts, like chopped walnuts or pecans.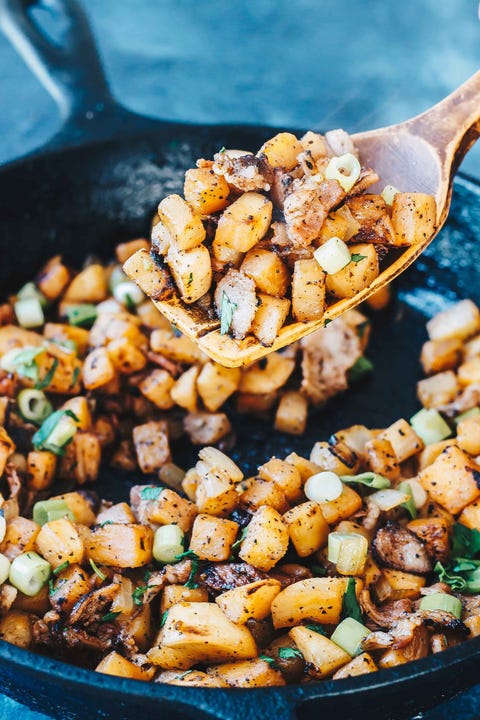 Cast Iron Keto
If there's one thing keto dieters miss when they're trying to enjoy brunch, it's those damn roasted potatoes. Yet you can dig into these "potatoes"—a.k.a. turnips—by Cast Iron Keto. They have so much flavor from paprika, garlic powder, salt, and pepper and only 4 grams of net carbs—you won't even miss the real thing. Pair with eggs, fish, or meat for extra protein, and you're set. (Though there is some bacon already!)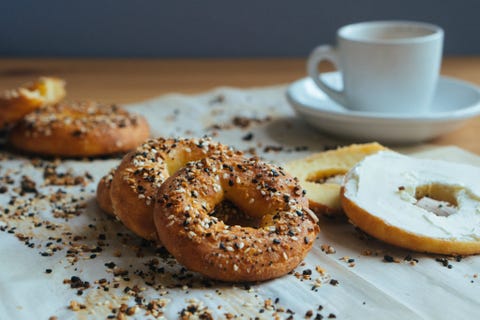 Keto Connect
Everyone loves a bagel, lox and eggs for breakfast. While lox and eggs are keto-approved, bagels can cost you 48 grams of carbs or more depending on the seasonings or flavor. These keto bagels by Keto Connecthave only 3 grams of net carbs a serving and don't skimp on flavor, thanks to everything bagel seasoning. This blogger uses cream cheese, almond flour and cheese to provide good protein and fat, with 10 grams and 15 grams respectively.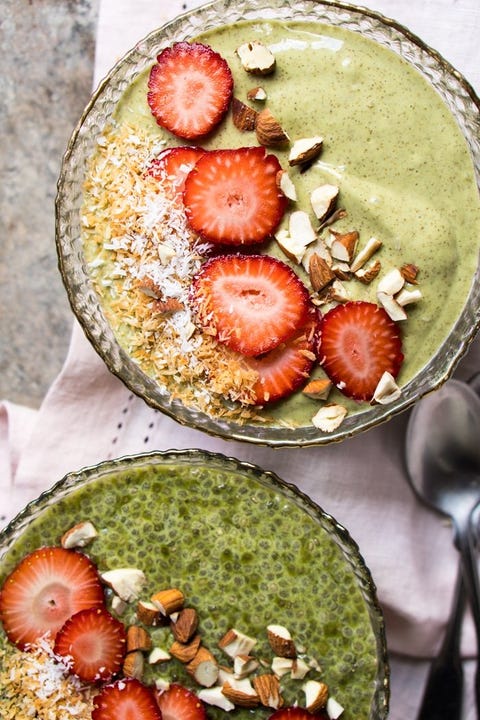 Gnom Gnom
If you're sensitive to coffee in the morning, swap it for matcha, which will still give you that caffeine fix in a milder dosage. Plus, matcha has a great flavor that works well with sweet and savory items, like nuts, fruit and seeds. This breakfast bowl by Gnom Gnom uses chia seeds, nut milk, and coconut to provide 10 grams of fat and keeps carbs low at 0.5 net grams. For a smoother texture, add avocado.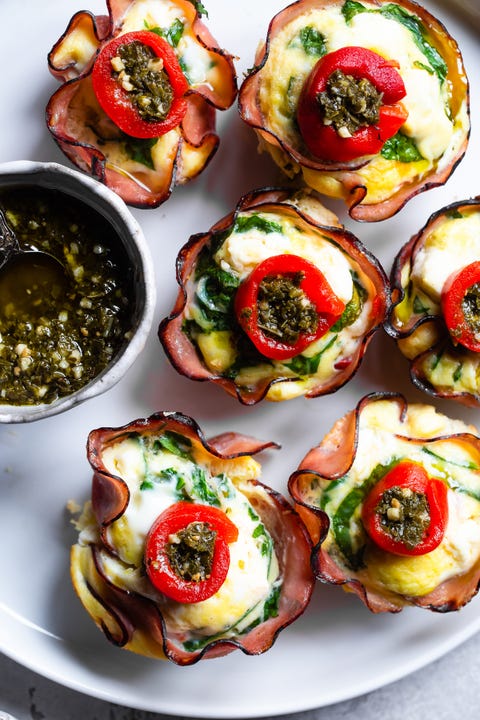 Food Faith Fitness
These portable egg muffins by Food Faith Fitness can be eaten on your morning commute, so you don't need to worry about finding enough time to sit down to breakfast. Each muffin has 109 calories, and there's 6.7 grams of fat and zero net carbs a serving. Plus, there's tons of protein from the ham, eggs, and feta cheese to hold you over for hours.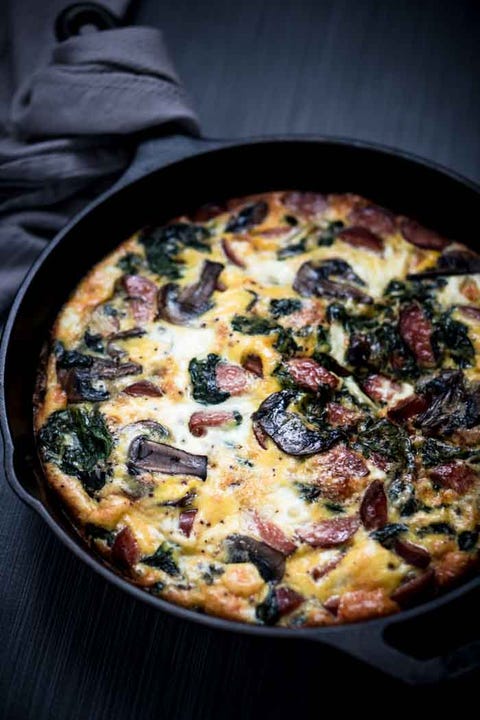 Ketogasm
This savory frittata recipe by Ketogasm is loaded with nutrients to power your day.It's hearty and filling, without taking you past your carb limit. Each serving has 333 calories, 26 grams of fat, 20 grams of protein, and only 1 net gram of carbs. This bloggers uses spinach, mushroom and uncured sausage, but feel free to play around with your veggies or swap sausage for chicken or steak.
Source: Read Full Article